Folk-Craft Products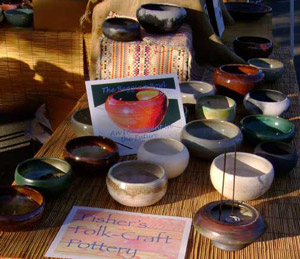 Hand-crafted pottery, in the contemporary world, celebrates the "personal touch" and stands out as unique and artistically justifyable. It promotes an appreciation of creative individuality and offers the owner an opportuity to share in this expression.
In all the years of teaching pottery, I addressed the "historical/cultural" component of the California Teaching Standards with thorough research, demonstrations and practice of various ceramic traditions. My social studies and anthropological interests have taken me out into the "field" to study with indigenous as well as highly cultured and technical potters.
I've taught Raku, with its Japanese Tea Ceremony origins as well as pit fire, open fire, saggar and horsehair decoration techniques. I use an electric kiln for stoneware which creates an oxidation firing atmosphere that is very predictable and technically precise.
Often I apply glazes in a way to create visually interesting results by over-glazing and double firing strategies. Mostly, I'm interested in form and function, so as you find work that you like and glazes that satisfy your aesthetic tastes, let me know and I'll look for ways to address your interests. Again, thanks for checking this far and I hope this information will be helpful.
| | | |
| --- | --- | --- |
| Stoneware is fired in an electric kiln to about 2250 degrees Fahrenheit. | Raku is fired out doors in a small fiber kiln and reduced in a closed container with dried leaves and paper. | Saggar is also fired in my outdoor kiln and is packed in a saggar with dried organic materials with salts and metal oxides. |
When you decide to purchase a piece of folk-craft pottery, you are demonstrating your support for the artist who made the work. You are paying, not for the object, so much as you are paying for the years of dedication to the craft and his discernment for design and beauty.