John D. Fisher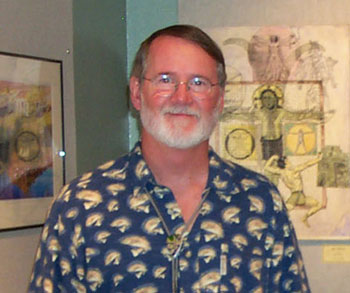 Curious cultural enthusiasts will recognize I've been faithful to a rather, truly loving, "Leave it to Beaver," mid-western American, "boomer" upbringing with my first boost in awareness during the '60's when my family arrived in California. In college, I edged on the "hippie" culture as a surf-riding, anti-war artist partaking in the educational liberation movement and practicing a love of learning. My faith in pragmatic evaluation of experience and in-depth research into historical and cultural aesthetic concepts began to show itself in my art. The "love" of our generation and that of our children, keeps me hopeful that humankind will eventually realize itself in a harmonious way.
While friends and honorable Americans fought and died in Vietnam, I was inspired to make a vocation out of my love for art and devote my efforts to becoming a teacher. I barged into a steady and active process of personal, cultural and sociological evolution that played itself out in a passion for teaching the "truth-mirroring and truth-making" magic of art. I learned to translate transcendental and transformational philosophies into my life to help me maintain my ideals of the importance of education. I was lucky to work alongside some of the most outstanding educators California has to offer, both in Redlands and throughout the state. In all the years of challenge, true art has been my inspiration and doing art has been my salvation and my reward.
I was that young kid in school that the other students saw doing nifty drawings and they all wanted me to draw one for them. My first art teachers from the Redlands Schools were Joe Gray, Pat Clarke and Bernard Lowery. I first studied ceramics under William Payne at Orange Coast College, then majored in Painting and Drawing at UC Santa Barbara. I worked with Margaret Clark, Vernon Dornbach and John Brownfield at the UofR where I got my teaching credential. I, later, got my MA in Integration of Arts in Education from CSU San Bernardino and worked with Louis Fox and Joe Moran in the Art Department. It is also where I formalized my philosophy of education under the guidance of Sam Crowell, Joe Gray and Bob London. I researched the importance placed on art as "rituals of intent" by Indigenous and Shamanic cultures and did an ethnographic study with an Owens Valley Paiute teacher/artist/shaman, Richard Stewart. My Master's project was titled, Learning from Shamanic Cultures: Returning the Spirit to Education Through the Arts. The "art part" of my master's work was the actuation of intent to contribute to the "healing of our world" through the Juniper Reindeer Medicine Assemblage.
For thirty-seven years I taught Art, Crafts and Ceramics at Redlands High School. I have spent almost twenty years as an Arts Education Advocate through my work as District Mentor and with the California Arts Project. Regular vacation schedules allowed me to camp, fish, hike and relax, at the mountains, beaches and deserts of California. Through my solitary travels I partake in on-going practices of creating a statewide "matrix of intent" by performing "Despacho Rituals" taught to me by Q'ero Indian Shamans from Peru. I've found studying shamanism does not conflict, but actually complements my upbringing in a devout Romain Catholic tradition. Throughout these years, I've practiced Teaching as an Art and cultural healing ritual and now I am practicing my art and learning how to present my art to the world.
My personally "expressive" artwork has been mostly, drawing, painting, collages and assemblages. I'm now beginning to translate and transfer some of my artistic images to the computer by using this graphic arts media. Now that I am retired from teaching, I am working on several large collages that I have been researching and collecting for over many years. I also will return to my greatest love, painting.
I have always considered ceramics as my personal passion and self-healing pastime. I have rarely used my ceramics in an attempt to make (particularly) creative statements. My learning has been to focus my intent to work in harmony with the clay and explore, with it, the forms into which it chooses to be made. I like to produce mostly practical pieces that can be used and enjoyed by anyone: mugs, bowls and other functional objects. I've sold my pots in various venues over the years but have given most of what I make to friends and family and as we use them, we critique and evaluate the forms that are most functional and appealing. With a continuing enthusiasm for "folk" and "indigenous" techniques to create pottery, I am learning that the manipulation of the media is also a ritual of intent. Occasionally, work will become apparent that may "speak" more to the spirit than to the sensibilities. I try to listen.
Now that I am entering this Internet space, I suppose I will learn even more quickly about the results of my efforts. Up until now, very few people have even seen my artwork and I'd be the first to admit that there's probably a good reason for it. I suppose instead of placing cleaver labels on it, I'd just have to confess it is pretty much "old-school," kind of pedestrian and pitifully melancholic in a time of "nastiness." I don't hesitate to criticize the effects of the "media" in its efforts to create an "ignorance" and dependency on commercial "quick fixes." I know, . . . even that is way too pretentious. Maybe it will get better as time goes on. Unless this current shift in our aberrant ways is catastrophic, I plan to stay and work in Redlands and merely use this Internet as my tool to send out my feeble albeit sincere messages.
Hope you enjoy some of the sights and insights. Feel free to comment; someday, a blog. Fish